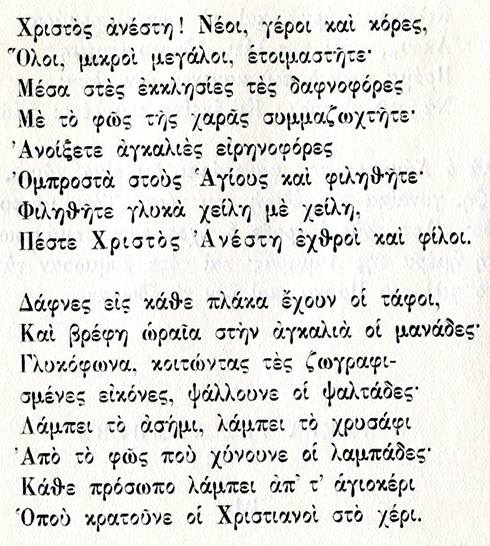 THE DAY OF EASTER
Christ is risen! Young, old and maidens,
All, little and grown-ups, get ready
In the laurel-strewn churches
Gather with the light of Joy.
Open peace-bearing arms
In front of the saints and kiss each other
Kiss sweetly, lips to lips,
And say "Christ is Risen", foes and friends.

Laurels are on every grave-stone,
And mothers hold beautiful infants in their arms.
The cantors looking at the painted
Icons chant sweetly.
Silver shines, gold shines
From the light shed by the candles.
Every face shines from the holy candles
The Christians hold in their hands.

Dionysios Solomos (1798-1857)


News and Events
See Notes on Greek Culture from the Greek Institute on:
Click here to view The Greek Institute's Chronology of Programs
March 6 3rd cycle of Greek Language classes begins
March 25, 2017, 8pm - Mario Frangoulis live in concert, co-presented by the Hellenic Cardiac Fund, Director Bess Pappas
Sanders Theatre, Harvard University
45 Quincy Street, Cambridge MA

Click here for tickets or call the Harvard Box office, 617 496 2222 or call or email the Greek Institute.

$ 95 (orchestra), $75 (mezzanine & front balcony), $ 65 (rear mezzanine & mid balcony), $45 (balcony)
Parking available at the Broadway garage near the theater for attendees
Spring 2017, Date TBA - Art Music inspired by Demotic Songs: the folk songs from various regions of Greece followed by a performance of original compositions by Jimmy Kachulis, composer and faculty of Berklee College of Music. The performance of Greek folk songs will feature Vasilis Kostas, laouto, and vocalist Eirini Tornesaki.

A glimpse of some of the embroideries and costumes the family of Doreen Canaday Spitzer (1914-2010), well known American Philhellene, recently donated to the Greek Institute.
On her first visit to Greece, Doreen Canaday wrote to her cousin, "I have seen the Parthenon in full moonlight, have seen Sophocles' Electra in the Odeon of Herodes Atticus...I have got lost, almost, on the slopes of Hymettus, of honey fame, and seen such sunsets and sunrises as people only dream of. Sometimes I can't believe it's really true..."
View the embroideries